Dengue Fever: A Case Study
Keywords:
Dengue hermorrhagic fever, Flavivirus, Vetor-borne disease
Abstract
Dengue is a pandemic that is brought on by the Dengue Virus (DENV), which is a single-stranded RNA (ribonucleic acid) virus. Dengue is also brought on by the bite of species in the Aedes family. Dengue, which is caused by the Dengue Virus, is the most common arboviral illness in the world and is a member of the Flaviviridae family. I present a study based on Dengue as a pandemic which outbreak on City Hospital of Delhi in the year 2010. Examining the clinical characteristics of dengue posi-tive cases, the prevalence of dengue diagnosis among patients with suspected dengue, and the effects of the aforemen-tioned on the environment and infectious illnesses. 4480 blood samples from clinically probable dengue fever patients were used in an enzyme-linked immunosorbent test (ELISA) to find dengue virus-specific IgM antibody protection. On 55 samples of C6/36 cell monolayers, virus isolation was carried out. The patient's application or the doctor might provide medical and public information about the patient. Results: Of the 4,480 blood samples tested, 1,800 blood samples (40.17%) were de-tected to be positive for the DENV with particular antibodies known as IgM antibodies. The most common group of single species of microorganism detected was DENV type 2. The conditions which were profusely detected were thrombocytopenia in which the blood platelet count observed is low and along with this Myalgia was also detected in which pain in the muscles is observed. In 32.4% and 17.9% of the 1,800-dengue fever IgM positive patients, respectively, low platelet count (thrombo-cytopenia) and muscle discomfort (myalgia) were noted. Together, these conditions accounted for 3% of the cases. Addition-ally, dengue hemorrhagic fever (DHF), which affects 10.3% of the 1,800 persons, has a fatality rate of 0.08%. Conclusions: Increased reporting due to changes in disease outbreaks, unprecedented rainfall, major infrastructure developments and improved medical facilities contributed to the shortage of dengue patients in 2010.
Downloads
Download data is not yet available.
References
Sukri NC, Corwin AL, Rachdyatmaka JR, Didi S, Porter KR, Osok S, et al. Transmission of epidemic dengue hemorrhagic fever in easternmost Indonesia. Am J Trop Med Hyg [Internet]. 2003;68(5):529–35. Available from: http://dx.doi.org/10.4269/ajtmh.2003.68.529
Eco-epidemiological parameters linked to the hyperendemic dengue hemorrhagic fever in Maracay city, Venezuela, by Barrera R, Delgado N, Jimenez M, and Valero S. 2002;26:84-95 in Dengue Bull.
Reuben R, Carey DE, Myers RM, Rodrigues FM. South Indian city of Vellore studies on dengue 1966;15:580–7 Am J Trop Med Hyg. Am J Trop Med Hyg. 1966; 15:580–7.
Sarkar JK, Pavri KM, Chatterjee SN, Chakravarty SK, Anderson CR. Virological and serological studies of cases of haem-orrhagic fever in Calcutta. Material collected by the Calcutta school of tropical medicine. Indian J Med Res [Internet]. 1964; 52:684–91.
Bhattacharjee N, Mukherjee KK, Chakravarti SK, Mukherjee MK, De PN, Sengupta M, et al. Dengue haemorrhagic fever (DHF) outbreak in Calcutta--1990. J Commun Dis [Internet]. 1993;25(1):10–4.
Ilkal MA, Dhanda V, Hassan MM, Mavale M, Mahadev PV, Shetty PS, et al. Entomological investigations during out-breaks of dengue fever in certain villages in Maharashtra state. Indian J Med Res [Internet]. 1991; 93:174–8.
Dar L, Broor S, Sengupta S I, Seth P, Xess. The first major outbreak of dengue hemorrhagic fever in Delhi, India. Emerg Infect Dis [Internet]. 1999;5(4):589–90. Available from: http://dx.doi.org/10.3201/eid0504.990427
Gupta E, Dar L, Narang P, Srivastava VK, Broor S. Serodiagnosis of dengue during an outbreak at a tertiary care hospi-tal in Delhi Indian J Med Res. 2005;121:36–8.
Sharma RS, Panigrahi N, Kaul SM, Shivlal, Barua K, Bhardwaj M. Status report of DF/DHF during 1998 in the National Capital Territory of Delhi, India Dengue Bull. 1999; 23:109–12
Vaughn DW, Green S, Kalayanarooj S, Innis BL, Nimmannitya S, Suntayakorn S, et al Dengue viremia titer, antibody response pattern, and virus serotype correlate with disease severity J Infect Dis. 2000;181:2–9
Katyal R, Singh K, Kumar K. Seasonal variations in A. Aegypti population in Delhi, India Dengue Bull. 1996; 20:78–81
Chakravarti A, Kumaria R. Eco-epidemiological analysis of dengue infection during an outbreak of dengue fever, India Virol J. 2005;2:32
McBride WJ, Bielefeldt-Ohmann H. Dengue viral infections: Pathogenesis and epidemiology Microbes Infect. 2000; 2:1041–50
Gubler DJ. Dengue and dengue hemorrhagic fever Clin Microbiol Rev. 1998; 11:480–96
MM Parida, PK Dash, C Upadhyaya, P Saxena, and AM Jana. An examination of the virological and serological aspects of an outbreak of dengue fever in Gwalior, India 2002;116:248–54 Indian J Med Res.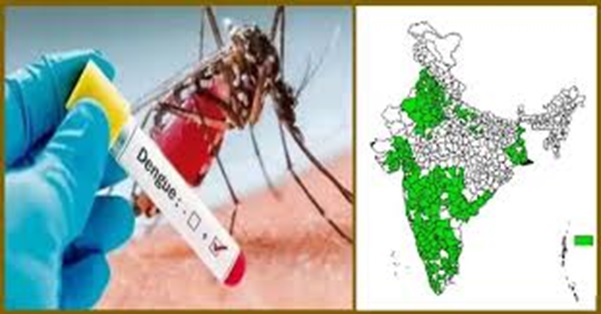 Downloads
How to Cite
1.
Ananyaa Srivastava. Dengue Fever: A Case Study. Int. J. Primary Crit. Care [Internet]. 2023 Sep. 30 [cited 2023 Dec. 4];1(1):1-6. Available from: https://pcc.a2zjournals.com/index.php/pcc/article/view/10
CITATION COUNT
License
Copyright (c) 2023 Ananyaa Srivastava
This work is licensed under a Creative Commons Attribution 4.0 International License.